If your device has Responder permissions, tap the "Alerts" tab at the bottom of the screen.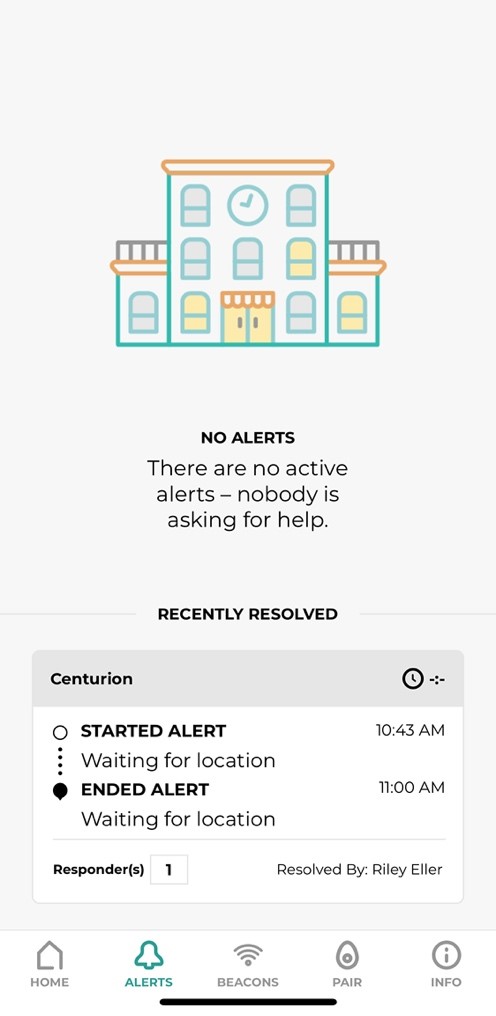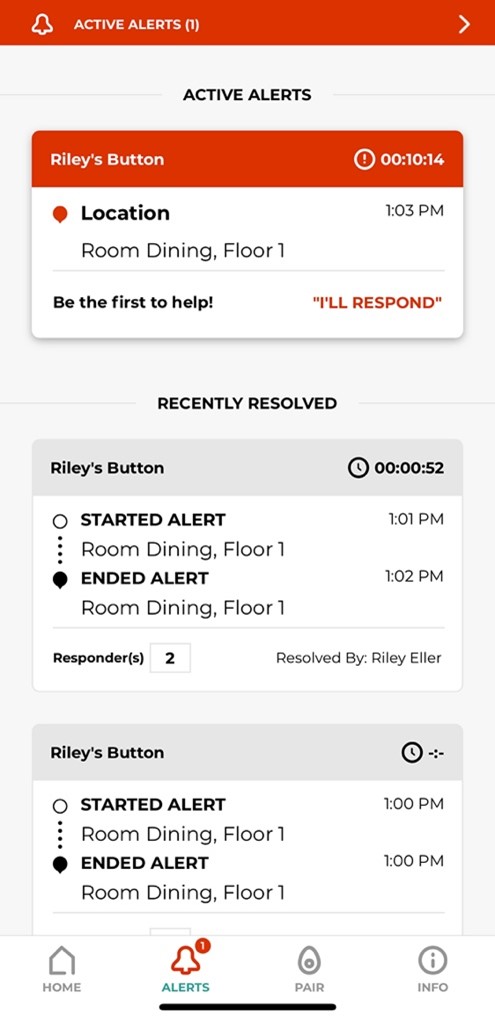 Note that you cannot see your own alerts on this screen! That would violate the principle of a silent alarm. Noisy devices and alarms may agitate a bad actor, so it's crucial that we maintain a low profile. You will need two devices to test.
At the bottom of this screen, find a history of recent alerts. You can tap each one to examine the alert history including the motion of devices and notes about the alert entered by responders.
To respond to an alert, tap the words "I'll respond" on the alert information panel. This will trigger the panic button to change its LED color pattern from blinking red to fading between blue and red. That tells the user that help is on the way.


When you tap "I'll respond" you are taken to this live alert history view. Items with the red, circled exclamation point are from the alert source. The first says that the user needs help, and the second says where the user is. Resolving an accurate location may take several seconds, so we break the message into parts.
As the alert source moves, its position will be reported every 20 seconds into this window. Any notes or comments you type will also be added to the history.
Once you are on this screen and see where to go, it's safe to turn off the phone screen and put it in your pocket. Go ahead and resolve the incident before coming back to the app. We will track your arrival time automatically and stop that clock when you approach the incident.
After you arrive and resolve the situation, you will be allowed to close the alert. Add any notes first, then tap "Alert is under control", and select a reason for the alert from the following options:
Guest incident refers to any issue with a guest.
Staff incident refers to any issue between two staffers.
False alarm refers to a panic button firing without the intent of the user.
Just testing lets us know that you're doing a good job testing the system.
Portal users can also respond to alerts and manage them in the same way. This makes it easy for properties with dedicated security staff to use their walkie-talkies.