This article explains how to Pair, Locate, Disconnect, and Update Firmware on our Sidekick Panic Buttons.
When a Bluetooth Sidekick Panic Button is paired with a smart device, an alert may be initiated from the React Mobile iOS or Android application remotely. The Sidekick allows an alert to be sent discreetly, without having to open up the smart device to find the application during an emergency.
Once paired to a smart device, the corresponding device and Sidekick should always be issued together, as the button is now tethered to that specific device.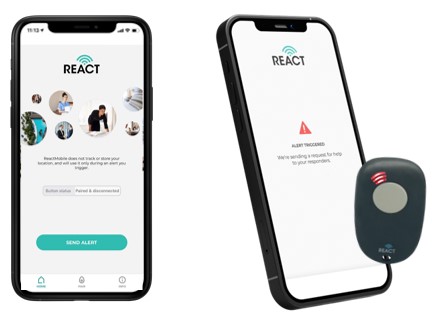 Pairing:
From the smart device, launch the React Mobile Hospitality application. Tap on the "Pair" tab at the bottom of the screen.
Bring the Sidekick close to the device, then tap on "Pair a Button." Answer "Yes" to Location On Always or While Using Device, and "Yes" to Allow Access to Bluetooth. The app will indicate "Scanning...Connecting..."
Once connected, the Sidekick will flash a solid green light for one second. The app now displays options to "Disconnect" or "Locate Button."

Some operating systems may not offer the option to "Always" use Location Services. Go to device Settings, search for the React Mobile app permissions, and set the device to "Always" allow Location Access for the most accurate beacon location to populate in alerts.
Locating the Paired Button, Disconnecting, and Reconnecting:
From the "Pair" tab, press "Locate Button" and the paired Sidekick will flash blue and green.
To 'un-pair' the Sidekick from the smart device, tap on "Disconnect from Button." The screen will revert back to displaying "Pair a Button," and the un-paired Sidekick will flash green rapidly.
The two devices will remain connected as long as they are within about 30 feet (10 meters) of each other. If they are separated and the Bluetooth range limit has been reached, the Sidekick will lose signal, disconnect from the smart device and begin to flash green rapidly. The button is signaling that it is no longer paired, so it can not initiate an alert while in this state. The app will indicate "No Button Paired" instead of "Paired and Connected" and will send a notification alerting the user, "WARNING: Sidekick Disconnected. Please-repair your device." Once the devices are back within Bluetooth range of each other, the button will automatically reconnect to the previously paired smart device; the button flashes green once when paired.
Updating Sidekick Firmware:
The Sidekick firmware version is displayed towards the bottom of the screen. If an update is needed, the app will indicate "Update Firmware" rather than "Up To Date."

To update the Sidekick firmware, tap on "Update Firmware." The process takes under a minute.